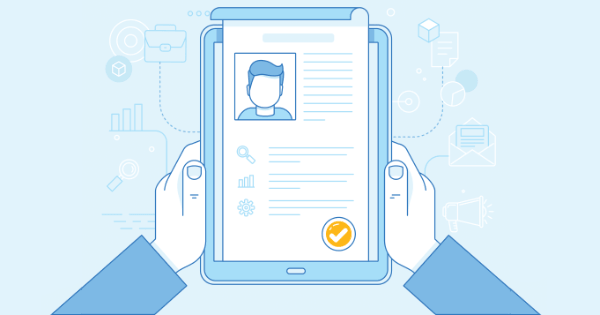 8 Tips for Creating a Killer LinkedIn Profile
If you're looking for your next dream job, the place to be is on LinkedIn. Already have a LinkedIn profile? Awesome! Now all you have to do is stand out from the 400+ million people already active on this social platform. With more recruiters and hiring managers turning to LinkedIn as the go-to recruiting tool of choice, maintaining a current LinkedIn profile is only that much more important. After all, it is your public resume.
If you need help cleaning up your profile or if you don't know where to start, follow these 8 tips to get the most exposure on LinkedIn:
Upload a Professional Picture
Your profile picture is one of the most crucial pieces of your personal brand on LinkedIn, and the saying "a picture is worth a thousand words" cannot hold more truth here. When a hiring manager or recruiter views your profile, they often start making assumptions of you right away based on your picture. Make sure to include a professional headshot that makes you seem approachable.
Also, make sure to choose a picture that actually looks like you. Most of us have seen someone's Facebook picture online and then met them in person only to find they looked completely different, whether that is for the better or worse. Don't fall into this category of catching someone off guard and having your credibility questioned by displaying a picture that doesn't resemble you. Also make sure your picture is clear and not granular. A pixelated picture is just plain annoying and doesn't make you look professional. Speaking of not looking professional, having a selfie or a picture of you in a social setting with other people isn't the best picture either. Plus it's a good way to get the cold shoulder from your dream job.
Don't think a picture matters? Think again. By just having a picture on LinkedIn, you profile is 7 times more likely to be viewed by others. That's a great deal of exposure you could be missing out on if you still don't have a picture!
Optimize Your Headline
Your headline is another important piece to your LinkedIn profile. Treat it as a mini value proposition making you stand out from the crowd. Try to keep it under 10 words, but also make it catchy and rich with key words. Don't know where to start? Try conducting a quick search on LinkedIn to see what other professional are using and keep an eye out for profiles that standout.
Write an Effective Summary
Assuming you have a quality picture and a catchy headline, having an effective summary is the next most important piece to your LinkedIn profile, yet many people choose to leave this section blank! The summary is your chance to tell YOUR story, so make the most out of this opportunity.
A great way to organize your summary is by separating it into four parts. The first should start with a catchy line that grabs your reader's attention and gives a summary of your professional experience. Make sure to touch base on your past and current experiences, but don't go into too much details since you will get the chance to explain your experience later on. The second part should highlight your education, certifications, or any awards you have received. You can also turn this into highlighting past accomplishments you have worked on if you would like to take a different approach. The third section should change direction from your experience, but instead focus on your soft skills and what you are looking for on LinkedIn. Make sure to also include your contact information since people who are not in your network aren't able to reach you directly through LinkedIn. At the end of your summary, include a section that simply says "Keywords: …," and list your key skills and the different software and technologies you have experience in. This is a good way to help turn up in the search results when recruiters or hiring managers are looking for new candidates.
Correctly List Your Past and Current Jobs
When adding jobs to the experience section on LinkedIn, you will be asked for the name of the company you worked for. If they are on LinkedIn, make sure to link your job to their company's LinkedIn page to show the company's logo on you profile. Make sure to also include your professional job title of your current and past positions, and be as accurate as possible. If you have worked for a staffing firm, make sure to include the client site you were working at. Doing this decreases the ambiguity of the size, industry, and culture of the client site.
Another thing to note is the description. Unlike your resume, you have a lot more space to discuss your responsibilities and achievements. However, you still need to make sure don't overdo it and ramble on about yourself. A good way to structure the description is with bullet points. Bullet points make it a lot easier to scan through your LinkedIn profile as opposed to large, chunky paragraphs. Make sure to also use action words and numbers to back up your description. Recruiters and hiring managers would much rather see what you did rather than just listing your job duties.
Include Your Skills
There is a skills section for a reason so make sure to fill it out. List all of your professional skills as well as any technologies or software you have experience in. This is another chance for you to include keywords into your profile, so that you have a greater chance of showing up in search results. This also gives your connections a chance to endorse you based off the skills you chose to list.
Customize Your URL
Being able to customize your LinkedIn URL should not be underestimated. By customizing your LinkedIn URL, you can start promoting your profile even more but adding it to your email signature, business cards, resume, etc. It also makes it look much more professional and easier to share with others. A good idea on customizing your URL is to follow the following format structure: linkedin.com/in/FirstNameLastName. If you notice your URL is already taken, try adding your middle initial into the URL. If you need help with instructions setting this up, the LinkedIn Help Page will give you step-by-step instructions.
Proof and Read Out Loud
No matter how well you set up your profile, you don't want to jeopardize your chances of getting a job by having an error-filled profile! Reading it out loud is a great way to catch some errors since what you say in your head is sometimes different once said out loud. Also ask any friends if they will look it over. It's always nice to have a second pair of eyes on your work.
One last piece of advice is to turn off your profile updates if you are making a lot of updates. This way it won't annoy your connections or put your current employer on alert that you are looking for a different job. By following these tips, you should be set to creating a winning LinkedIn profile. Even if you aren't looking for a new job, following these steps is a great way to clean up your professional online appearance.