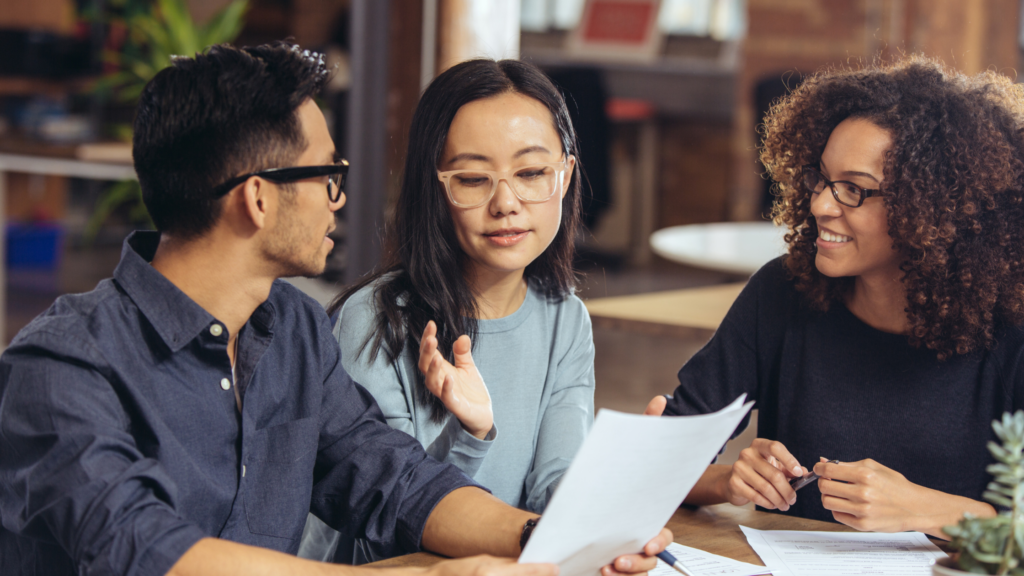 Why Are the Stakes Higher with Direct-Hire Recruiting?
When it comes to growing your team, every employee counts—including your new hires. One "bad apple" is all it takes to derail your company's progress toward its goals. And for direct hires, the stakes are even higher, especially since a single bad hire costs companies almost $15K on average.  
To avoid the potential negative consequences of hiring the wrong candidate for the job, it's essential to work with a direct-hire recruiter with a proven track record of successfully filling their clients' hiring needs based on their business goals. It shouldn't just be about filling an open position as quickly as possible—it's about matching the right candidate with the right role. 
While the stakes may be high with direct-hire recruiting, when done properly, this approach can be incredibly fruitful for jobseekers and companies alike. In this blog post, we'll discuss why the stakes are so high with direct-hire recruiting, the benefits of working with a reputable direct-hire recruiter, and how to find the right recruiter for your needs. 
The Tangible and Intangible Costs When Things Go Wrong
Unlike temporary or contract hires, direct hires are permanent employees of your company, meaning the cost of a bad hire can be much higher than with other employment arrangements. This is because a whole lot of time and resources go into the vetting, hiring, pre-boarding and onboarding process. Then, there's the cost of a workspace if they're an office-based worker, and things like employer-paid health insurance, wellness programs, 401K matching and other benefits. All that investment goes out the window if something goes wrong. 
There are also the "intangibles" of a bad direct hire that have a very real impact. These include long-term negative effects on a company and its reputation, decreased customer satisfaction and quality, lost productivity, worsened employee morale and increased turnover. 
But wait. There's more.  
The Risks of Poor Direct-Hire Recruiting
Not all direct-hire recruiters are created equal. That's why it's so important to do your due diligence before you engage with a firm or individual to ensure they're the perfect fit.  
Recruitment is a lot like automotive sales or real estate. Many people end up in the staffing industry, but only a subset is truly exceptional at it. The best recruiters have a real gift. They demonstrate high energy, high empathy, a wonderful imagination, active listening, industry specialization, and a knack for building relationships, staying organized and responding quickly and reliably.   
The particular skillsets that great recruiters bring to the table will make all the difference. There is no substitute, and you get what you pay for. So, read reviews, ask for client testimonials, and keep these potential pitfalls in mind.  
Quality of Recruiters: Some recruiters may have a poor track record of making successful placements or may not have the necessary experience or expertise in a particular industry. Again, never skip the very important step of researching potential recruiters before engaging in their services. 
Cultural Fit: While direct-hire recruiters may have access to a broad network of candidates, they may not always find the best fit for a company's unique culture and values. This can lead to a poor fit between the candidate and the company, resulting in turnover or other issues down the line. Make sure your recruiter has taken the time to understand what it's really like at your company, the "vibes" of the culture and the personality attributes that would make for a good culture fit.  
Lack of Control: When working with a direct-hire recruiter, companies may have less control over the hiring process, particularly when it comes to the selection of candidates. This can be a concern for companies that value a hands-on approach to recruiting and want to have more input in the hiring process. 
Time Constraints: While direct-hire recruiters can save time in the recruiting process, bear in mind it can still take time to find the right candidate. Companies should be prepared for the recruitment process to take several weeks or even months, depending on the complexity of the role and the availability of qualified candidates. But it's well worth the time to find the perfect candidate and retain them for the long term.  
Here's another caveat for you to consider: These effects can be especially pronounced for smaller companies that rely heavily on a small number of employees. Smaller teams operate a bit like families. Their bonds are close, and their loyalties run deep. A bad hire can create a negative ripple effect, which will impact the entire team and potentially lead to a toxic work environment.  
Remember: It only takes one person to make or break a team, so go in with your eyes wide open, or you could lose your top performers faster than you can say "vibe check."  
Proceed with Confidence Down the Direct-Hire Route
While you should certainly be aware of these risks, don't let it deter you from going the direct-hire route altogether. Rather, let these considerations signal your team to be extra diligent in researching and enlisting a reputable direct-hire recruiter.   
Four Benefits a Reputable Direct-Hire Recruiter Can Offer Your Company
When it comes to working with a direct-hire recruiter, the benefits certainly outweigh the risks, especially when you choose to partner with a highly skilled and successful firm.
1. Save Time and Money
Let's start off strong with one of the biggest perks: big savings, in more ways than one. Knowing that it can cost up to $18K to fill a $60,000 position, these numbers aren't something to mess with.
Direct-hire recruiters can save companies time and money by pre-screening candidates, conducting in-depth interviews and performing background checks, so that companies like yours can focus on only the most qualified candidates. 
 2.
Access a Vast Candidate Network
Direct-hire recruiters have a deep and broad network of candidates, including passive job seekers in a talent community who may not be actively looking for work but are open to new opportunities. They can also leverage their network to find candidates with specific skills or qualifications that are typically harder to find. 
3. Leverage a Customized Recruiting Plan
A good recruiter will work with you to understand your specific needs and create a customized recruiting plan, taking the time to learn about your company culture, values and mission to ensure they find candidates who fit the qualifications of the role as much as they fit in with your team.
4. Gain a Valuable Partnership
You can consider your direct-hire recruiter an extension of your team and a trusted advisor who offers sound advice and guidance on industry trends, hiring best practices and workforce planning. With your best interest in mind, a reputable firm will ensure your company makes the right hire to stay on track with your goals and ahead of the competition. They'll also nurture this relationship and stay connected even when you're not hiring so that when it's go-time, they're not starting over with you and your company. 
Mitigate Your Risk: What to Look for in a Direct-Hire Recruiter
When selecting a direct-hire recruiter, it's essential to work with a reputable and experienced recruiter with a proven track record of success. But what exactly does that look like? 
Here are some of our best tips for hiring a right-for-you recruiter:
Look for a recruiter who has specialized experience in your industry and a deep understanding of that particular job market.

 

Ask for references and testimonials from satisfied clients and candidates within the last year. Get specific here—ask them for feedback that directly relates to the most important aspects of the hiring process for you.

 

Consider the recruiter's process. A good recruiter will have a systematic and thorough approach to recruiting, including pre-screening candidates, conducting in-depth interviews and performing background checks.

 

Ask about the recruiter's fees and pricing structure. Some recruiters charge a flat fee, while others charge a percentage of the candidate's salary. Don't be afraid to ask for a special payment plan, if needed.
Experience the TeamSoft Difference
Choosing amazing direct hires is essential for the success of your company, but it's not always easy to find the right fit. 
After successfully placing more than 2,500 consultants nationwide, the professional recruiting team at TeamSoft knows exactly how to find the most talented tech professionals for our clients 
But don't just take our word for it… 
"TeamSoft's response time was outstanding, as was the quality of the candidates they provided. They had excellent follow-up and verification of contractor performance." 
"I have hired several TeamSoft consultants during my tenure. TeamSoft's employees are very responsive and truly work with us if there are any issues." 
"TeamSoft provides consistent experience and follow-through. TeamSoft stands apart from many other firms due to their people and clear demonstration/articulation of long-term partnerships over short-term placement." 
For your long-term staffing needs, TeamSoft offers direct-hire recruiting solutions to identify and attract the talented employees you need to run and grow your organization. Our goal is to find your company the perfect fit to help you drive business success and longevity in the market. 
Contact us today to find out if we're the right direct-hire firm for you.