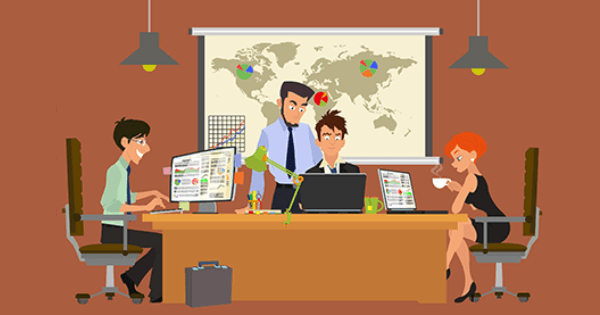 How To Love Your Job
We all have heard the saying, "Choose a job you love and you will never have to work a day in your life." How amazing would that feel to get out of bed every day and go to work because you want to, not because you have to? If you ask anyone this question, their answer would undoubtedly be fantastic! Many people feel that they are still searching for that one job that they look forward to going to every day, when in fact they may already have that job. Even if you may not think this is not you, take a step back and look at your current job. Don't look at your job as a 9-5 obligation or counting down the hours until you can leave, but develop a different kind of mind set and treat it like you would a relationship. To help you fall in love, or fall back in love, with your current job, there are a few things you can do.
Set Your Career Goals
We all have been asked the question during an interview of where you see yourself in 5 years. Now it's time to ask yourself this same question and actually be serious about your answer. Think about it and write it down. You never know where you are headed if you don't write down your goals and this is your first step. From here, you can see what steps you are taking in your current role to reach this goal. This can give you a whole new perspective on your job and make you realize that what you are doing is benefiting yourself as well as the company.
Find a Mentor
Whether it is someone in your organization or someone from a different company, having a mentor can give you a boost of enthusiasm in your current job. It's great to have someone to talk to that has already been where you are and to see what they did when they were in your position. A mentor is also a great resource to learn from and to go to when you need help. It's like having a Mr. Miyagi at your back door to go and talk about things for both work and non-work related concerns. Even if you don't have someone in mind that could be a great mentor, there are plenty of professional organizations that you can join that have people in it who have been where you are.
Have a Work-Life Balance
Overworking yourself can lead to burnout and make you appreciate your job a lot less. You have vacation days for a reason, so use them! Taking a day or two off from work can help you rejuvenate yourself and allows for some 'me time.' Even if you don't have enough vacation time accrued, try finding a new hobby or something that makes you happy that you could do after work. You could try signing up for a yoga class, start an art project, or even join an after-hours organization. This is a great way to develop a life outside of work, not to mention it will give you a Wellness Credit if you are a TeamSoft employee!
Develop Friends at Work
Even if you love what you do, the people you work with can make or break a job. Because of this, try to attend more company outings and events where you get to see your coworkers out of the office. Work on these relationships since you probably see your coworkers on a daily basis more than your significant other or other family members. After all, who wouldn't mind going to work every day where you get to spend time with one of your friends.
Keep a Positive Attitude
Lastly, but certainly not least, keep a positive attitude. A big part of happiness is mental, and something as simple as being positive can make a huge difference. Focus on the positive things that are happening at work or in your life and try to forget about the negatives. There is always a silver lining in everything, so find it!
With these points in mind, take a look at your current job and try to implement them.  I bet you without a doubt that you will find a whole new perspective in what you do and be truly satisfied with your work.