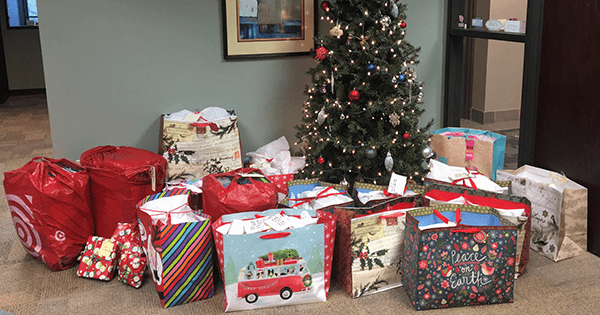 TeamSoft Collects Holiday Gifts for Sharing Wishes Families
Twice a year, TeamSoft holds a fundraiser to collect items for Sharing Wishes families that are part of the Salvation Army's Family Stabilization Program. TeamSoft's most recent fundraising effort focused on gifts for the holidays with the hope we would be able to help bring warmth to these families during the holiday season.
The Winter Wish List included a mix of practical items, cozy items, and fun items, such as family board games, kids' activity sets, and decorations for the holidays. To help encourage more giving and reach our goal of providing a gift for every family member, we also hosted a raffle.
With everyone's help, we were able to purchase almost all of the gifts on our holiday wish list! Lisa Quam was the lucky winner of our raffle. She won a $250 prize and chose to donate half the money to the Dane County Rape Crisis Center and will use the other half to see a show at the Overture Center. The Sharing Wishes Families have expressed that our continued support really does help in making their day-to-day lives a little easier. Thank you to each and every person who donated to help the Sharing Wishes families have a happy holiday season!
If you would like more information about TeamSoft's Sharing Wishes program or would like to make a donation, please email Lisa at lquam@teamsoftinc.com.