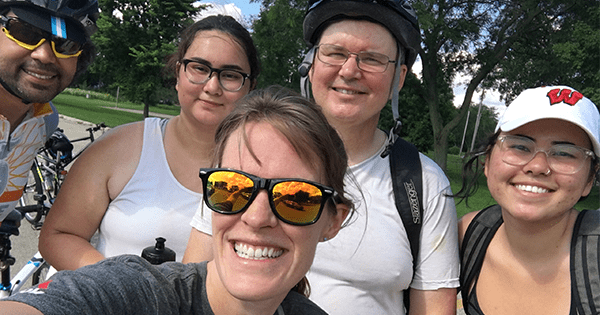 PsyclePaths Enjoy Monona Lake Loop Bike Ride
The TeamSoft PsyclePaths enjoyed a beautiful bike ride on Sunday, July 23rd. The group started out at Olbrich Park and took a bike ride around the Monona Lake Loop bike path.
As recreational bikers, their trip was leisurely and included numerous water breaks. The group enjoyed taking in the city sights, new and old houses, and beautiful lake views while socializing. One member of the group members had experience working at Trek Bicycles and had great information for everyone on bikes, bike gear, and other related tips.
Thank you to everyone who joined the PsyclePaths for the first ride of the season! If you would like to join TeamSoft employees, family, and friends for bike rides around the city of Madison, please contact Lisa at lclemens@teamsoftinc.com.