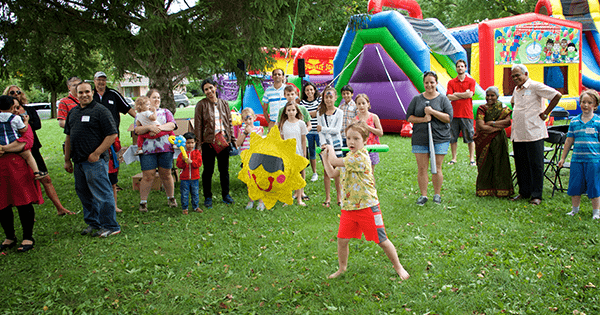 TeamSoft's 2016 Summer Picnic
TeamSoft held our annual summer picnic on Saturday, August 20th at Tower Hill Park in Fitchburg. With severe weather on the radar, the party went on as planned with only a couple bursts of rain. The theme for this year's picnic was "Birthday Party," since we are celebrating TeamSoft's 20th year in business. Activities included giant inflatables, yard games, tug of war, musical chairs, and multiple games of piñatas for both children and adults. To add to the fun, people could have their face painted, a henna tattoo, or a balloon animal!
The event was once again catered by Bunky's Catering who came back by popular demand. Food choices included vegan, vegetarian, gluten-free, a kid's buffet, and a decorate your own cupcake station with frosting and toppings as a part of our 'sweet' party.
We also held a fundraiser to help benefit the Monroe Street Arts Center (MSAC) financial assistance scholarship fund, an account set aside for eligible families who cannot otherwise afford music lessons. Some of the fundraising activities included a "Guess the Gumballs" game where people paid $5 to guess how many gumballs were in a jar. The winner was TeamSoft consultant, Toby Rolvag, who guessed 591 gumballs, which was only four off from 595! Toby won the jar of gumballs and a gift certificate for a custom sheet cake donated by Bunky's Catering (a $100 value). In the "Pick a Pop" game, people paid $5 to pick a dumb pop from a Styrofoam board. Certain dumb pops had colored ends which represented prizes including movie tickets to Marcus Cinema, private lessons to the MSAC, and more.
Thank you to everyone who came out to enjoy the picnic and to everyone for helping make this party a success. We can't wait to see you at our next TeamSoft outing!
Check out more photos on our TeamSoft Facebook page!