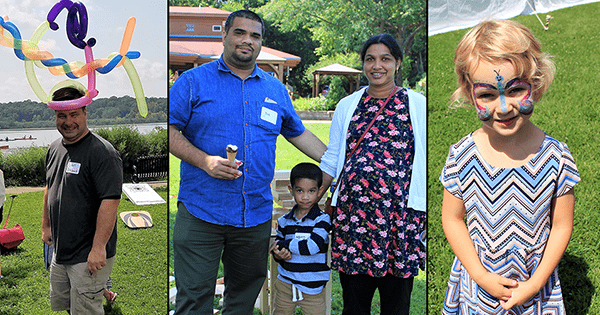 TeamSoft's 2017 Summer Picnic
TeamSoft's annual summer picnic was held on Saturday, August 19th at Wingra Boats. We had a sunny summer day and enjoyed the warm weather and beautiful view of Lake Wingra. Activities included face painting, balloon twisting, yard games, and boat rentals for both children and adults. Rentals available at Wingra Boats included stand up paddleboards, solo canoes, canoes, kayaks, double kayaks, paddleboats, rowboats, mega-SUPs, and watermats.
Blue Plate Catering catered the party, and food choices included vegetarian and gluten-free options. After lunch, an ice cream truck arrived and employees had the choice of over 40 different types of popsicles and ice cream treats!
The highlighted charity of the event was New Horizons House International. The goal of this organization is to provide after-care services for girls who have been rescued from trafficking and the international sex trade. Trafficking in Persons (TIP) is tied with the illegal arms industry as the second largest criminal industry in the world, and it is the fastest growing. New Horizons is currently working on establishing an after care facility in India which will provide trauma care and counseling, educational opportunities, and vocational training for girls between the ages of 12-16. They strive to provide an environment that allows girls to not simply survive the past, but to thrive with a renewed sense of dignity and purpose. TeamSoft donated to New Horizons House International, and we had a donation box available for employees who wished to make additional donations. To learn more about New Horizons or make a donation please visit their website.
Thank you to everyone who attended the picnic and helped make our event a success. We look forward to seeing everyone at our next TeamSoft event! To view more photos from the event, please visit TeamSoft's Facebook page!