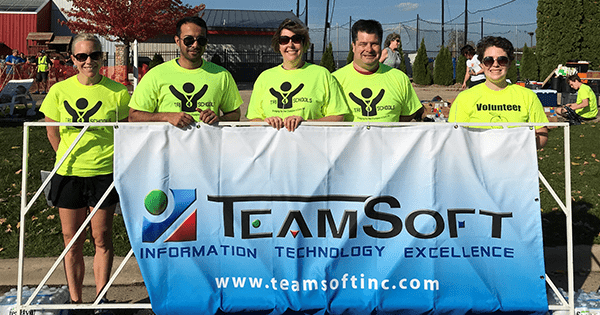 TeamSoft Sponsors the 2017 Haunted Hustle
TeamSoft was a proud sponsor of the Tri 4 Schools Haunted Hustle kid's run again this year in Middleton, WI. TeamSoft employees and consultants also volunteered during the event and helped with tasks such as handing out medals at the finish line and taking family photos. The kids running the race were so excited and their ear-to-ear grins were worth a million words! It was so special to see the kids running with each other, cheering each other on, and proudly wearing their medals.
Tri 4 Schools is a 501c3 non-profit organization in Dane County whose focus is to teach children the basics of a healthy lifestyle through swimming, biking, and running. Their goal is to help children learn to make healthy choices which will benefit them throughout their lives. We were delighted for the opportunity to be involved again with such a fun, family-focused event!
Tri 4 Schools aims at teaching children about setting and achieving goals, fitness, nutrition, sportsmanship and self-confidence. The registration fees from the Haunted Hustle go back to the children's school to help fund health and wellness initiatives. Please visit the Tri 4 Schools website to learn how how to get involved!