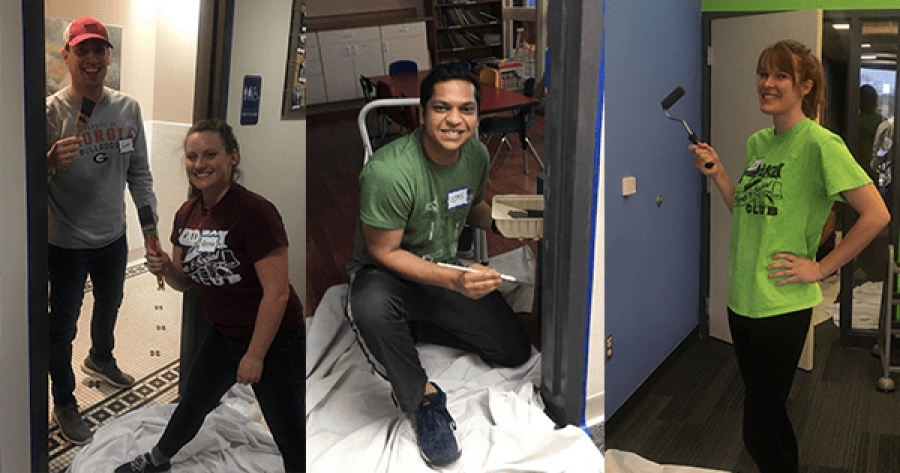 TeamSoft Volunteers with Badger Prairie Needs Network
This spring, TeamSoft volunteered with Badger Prairie Needs Network (BPNN). Badger Prairie Needs Network is an all-volunteer nonprofit organization dedicated to fighting poverty and ending hunger locally. BPNN has a wide variety of programs available to help the community. Some of their offerings include a free community meal on the 1st and 3rd Saturday each month, nutrition classes and hands-on cooking classes in their commercial-grade kitchen, a community garden, and free legal advocacy focused on ending homelessness and leveling the playing field for people with limited financial means.
On March 28, 2018, TeamSoft employees and consultants met at Badger Prairie Needs Network in Verona, Wisconsin to volunteer. The evening began with a presentation followed by a tour of the building from BPNN Executive Director Marcia Kasieta. After the tour, everyone grabbed painting supplies and got to work painting trim on windows and doors throughout the building. The goal of this project was to create a space that is warm and welcoming for their visitors – something that is very important to BPNN. Our team had a great time learning more about Badger Prairie Needs Network and helping them with this mission.
Please visit the Badger Prairie Needs Network website to make a donation or learn about additional ways you can help.
To see more photos from TeamSoft's volunteer night at BPNN, view our Facebook album.