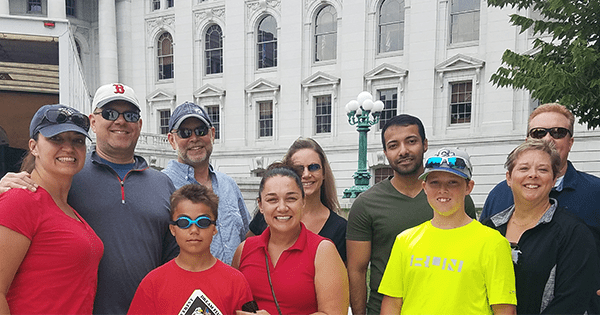 TeamSoft Volunteers with CAC Gleaners
TeamSoft employees and consultants recently volunteered with Community Action Coalition's gleaners program. The gleaning program began in 1992 with the goal of eliminating food waste and providing meals for those who may not otherwise be able to eat. Through a network of over 60 dedicated volunteers and over 100 donors, CAC Gleaners collects and distributes approximately 1 million pounds of food per year. They recover good food from grocers, restaurants, bakeries, and caterers that would otherwise go to waste. The food is then delivered to people in need through shelters, community centers, food pantries, senior centers, soup kitchens, and low-income apartment complexes at no cost. Their donations allow these agencies to reduce their food budgets and reallocate money to improve and expand existing programs.
On Saturday, August 26th, TeamSoft employees and consultants volunteered with the CAC Gleaners at the Dane County Farmers' Market. The volunteering event was a huge success and the group collected a total of 1,377 pounds of donations, which was the largest amount collected thus far this summer! Thank you to everyone who participated and helped make our gleaning effort successful. If you would like to help support this great cause by donating or volunteering, please visit the CAC Gleaners website.