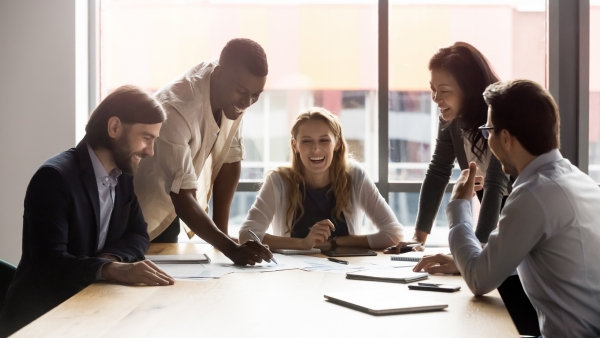 The Link Between Employee Engagement and Retention
Retaining top talent can be challenging in today's competitive job landscape. With companies boasting higher salaries, robust benefits, and amazing company culture, it's easy for many professionals to be drawn in. However, when a company's high-performing employees leave for new opportunities, it can cause disarray for their other team members and leadership.
Most companies realize that hiring and retaining employees who are satisfied and loyal to their company is pivotal to their success. But, how can a company better its retention rates?
Why Is Employee Retention Important?
Employee retention is vital for any organization and can have a significant impact on many factors, including:
Cost and Time. Finding, placing, and onboarding new talent is expensive and takes up time for multiple members of your team.
Team Relationships. The longer a team member stays, the more time they have to get to know each other and foster better relationships.
Top Talent. This one's a given, but keeping top talent for as long as possible can greatly impact company performance, team morale, and results.
Onboarding. Having experienced and stable team members is a big confidence boost for new hires.
How Employee Engagement Can Affect Retention Rates
Engaging in your team helps employees feel valued and interested in their role – making them more likely to keep working with your company. As a result, they stay longer and often perform better than disengaged employees. And since they feel a strong connection between themselves and your company's culture, they are usually advocates for your team and help others become engaged.
5 Ways to Improve Employee Retention Through Employee Engagement
A satisfied employee is one of the most valuable assets for your team. Here are a few tips for keeping your employees happy and engaged:
1) Employee Onboarding
Ensure your new hires start strong by giving them the right tools, training, and resources. Introduce them to your other teammates, mentors, and leaders. Help them develop a clear vision of their role in your company and how they fit in.
2) Team-Building Events
Social gatherings are great ways to build relationships with teammates and encourage new hires to get involved and contribute. Retention rates can benefit from team-building events, fun team outings, and a connected team.
3) Professional Development
Offering ongoing training and education can help your employees develop new skills, increase their knowledge and talents, and show them that you want them to grow with your organization. Peer-to-peer training is also a great way to foster a sense of community among team members.
4) Recognition
Showing appreciation for your employees can be a great way to keep them motivated, engaged, and happy at work. Offer timely and sincere recognition, and make sure you hold time for one-on-one meetings to discuss career goals, ideas, and achievements.
5) Culture
Having a company culture where everyone feels valued is vital for retention rates. By fostering a sense of belonging, building meaningful relationships, and providing adequate resources, your team members will be able to feel more connected to your company and work towards achieving its goals.
By focusing on employee engagement, your company can better retain its top talent while fostering stronger relationships between employees. By creating a culture of engagement, you'll gain a loyal workforce that sees themselves as an integral part of your team – making them more likely to stay longer and do their best work.
Looking to Find Talent to Fill a Vacant Role?
At TeamSoft, we understand that assignment continuity is important to our clients. When we're looking to fill a full-time position, we connect you with only the most qualified candidates who are a match for your company culture. If you're looking for a contract position, TeamSoft gives contractors every reason to stay long-term, including competitive compensation and a complete benefits package. When filling a contract-to-hire position, we find the best talent open to full-time employment. Contact our team today to find the right solution for your needs.