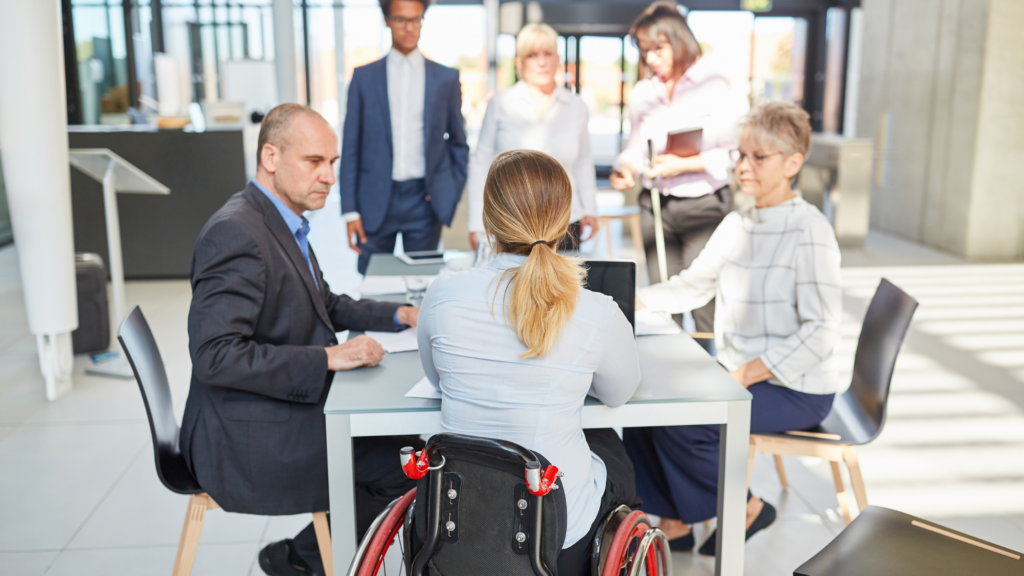 Disability Inclusion: What It Is and Why It Matters
Disability affects nearly one in four people in the United States and more than one billion people worldwide. In recent years, companies have pushed to be more diverse and inclusive in the workplace. But, in these DE&I efforts, very few companies include initiatives for disability inclusion. As a result, many individuals with disabilities are left behind, and organizations are missing out on amazing talent. 
As October was National Disability Employment Awareness Month, we'll dive into all aspects of disability inclusion: what it is, why it matters and how to make your business more inclusive. 
What Is Disability Inclusion?
"Disability" is a common umbrella term for a wide range of physical and mental health impairments that make it more challenging to perform certain activities or interact with surroundings. Disability inclusion provides people with disabilities an environment where they can easily access and interact with the same activities and facilities as others. 
Inclusion goes beyond just hiring individuals with disabilities. Disability inclusion is a way of thinking and working with people with disabilities that ensures that their unique needs are considered at all levels of an organization. It gives people an equal opportunity to learn, grow, succeed, and be paid fairly.  
The Importance of Disability Inclusion
Recently, the number of employees with disabilities has increased significantly. But organizations and managers often have a limited understanding of these individuals and their abilities, resulting in mistakes and a lack of inclusion efforts.
Disability inclusion is a crucial aspect of any business. More likely than not, your organization already has individuals experiencing permanent or temporary impairments. Giving these individuals the tools and resources they need to feel comfortable and supported will help everyone in your organization grow and thrive.
Four Benefits of Having an Inclusive Workplace
Larger Talent Pools
As mentioned earlier, one in four people in the United States has some form of disability. However, in 2021, the Bureau of Labor Statistics reported that only 31% of employed individuals are people with a disability. Therefore, it's much less likely for someone with a disability to be hired than those without disabilities. If you make sure to have an inclusive workplace, you'll be able to tap into a larger talent pool. This could lead to better hiring practices and higher employee satisfaction.
Increase Employee Engagement
By including people with disabilities, you'll feel the positive effects of increased engagement. According to Glassdoor, two out of three candidates want to work for an organization that is committed to an inclusive workplace. If you make your organization the environment people want to work in, you'll be more likely to attract and hire top-notch talent who will stay with you for the long haul. 
Bring in New Ideas
With inclusion comes innovation. The more people you have in your organization with unique backgrounds, the more their diversity of thought can give rise to unique thoughts, ideas, and solutions. And by bringing in people with different skills and levels of expertise, your organization will grow and be at the forefront of new trends and insights in your industry.
Make Better Business Decisions
By considering the needs of people with disabilities, you'll be able to make better business decisions. This includes working toward a more inclusive workplace where everyone is heard and understood. It can also lead to a healthier work environment and less turnover. 
Is Your Business Inclusive?
From how you interview to your office environment, it's essential to consider the needs of people with disabilities. Here are a few questions to ask to see if your business is truly inclusive: 
Is your hiring process inclusive of people with disabilities?

How do you include people with disabilities in team decision-making when making a change to your organization?

How do you ensure that meetings and events are accessible to people with disabilities?

Do you have an employee assistance or accommodation program?

Do you provide accessible facilities and parking?
TeamSoft Is Committed to Disability Inclusion
No matter the size of your organization, there is strength in diversity. If you're looking for ways to be more inclusive in your hiring efforts, we can help. TeamSoft specializes in locating top tech talent that fits your company's culture and ladders up to business goals. Contact us today to get started.