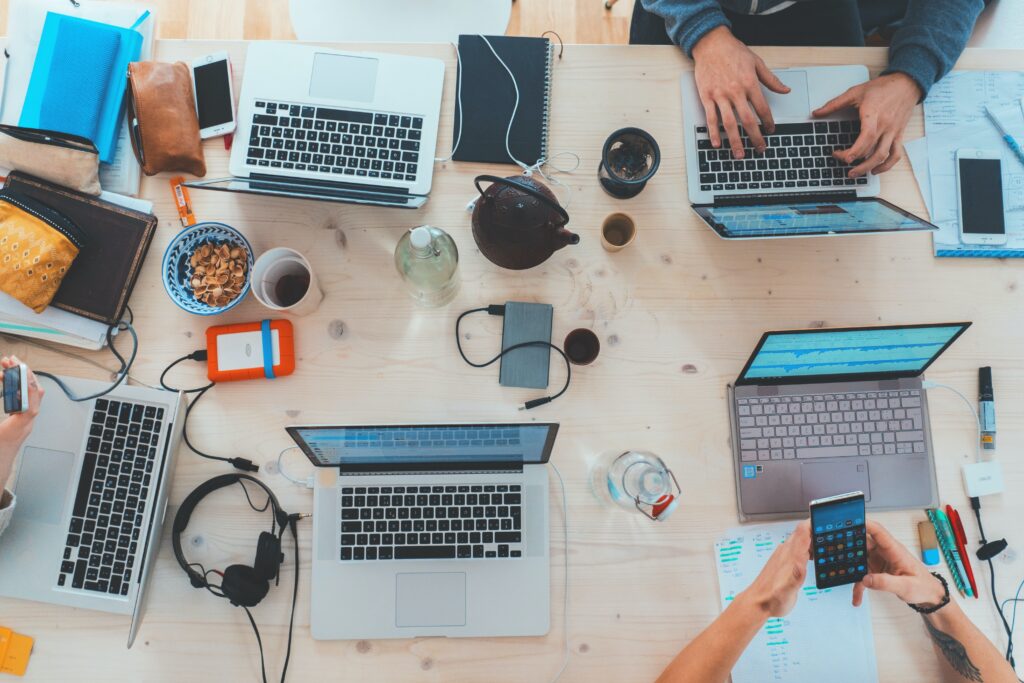 Want to Start Your Career in Tech? Here Are Some of the 3 Best Entry-Level Tech Jobs on the Market
We'll Show You How to Snag Today's Top Starting Roles in This Competitive Field
We're sure you know by now that the tech world carries a certain distinction. You might think of generous salaries, modern, fun offices, options for remote work, and a more laidback culture than you'd find in other corporate environments. If that vision is part of your career plan, we can help you break into the field through entry-level tech jobs. 
But where do you start? Looking at tech job descriptions can feel intimidating, as many of them require years of experience, master's degrees, and an impressive network before you'll even be considered for a role. Don't be too deceived by appearances. While even entry-level tech jobs can be difficult to break into, they're still very accessible if you have the right experience and mindset about the process.
Is It Worth Pursuing an Entry-Level Tech Job? 
Many entry-level tech positions are perfect for career changers and recent graduates who want to get their foot in the door and start building their skillset. Even people with relevant work experience can benefit from new entry-level jobs in tech, as they offer an opportunity to learn from experienced professionals and develop skills that will help them throughout their career. In fact, specialties like marketing, business, or linguistics translate into positive experience for technology applicants.
 
Useful Soft Skills for Working in Tech 
When you hear "tech," it's natural to think about math and science. However, if you don't happen to come from either of these backgrounds, or if your experience doesn't match your specific idea of what's required in a STEM-intensive role don't automatically self-select yourself out of tech.
What you will need to succeed in most tech jobs is an aptitude for digesting large amounts of information, analyzing patterns in what you observe, and applying what you learned to solving difficult, complex problems. IT-related work has a reputation for heads-down, siloed tasks, but teamwork is another essential trait you'll need to demonstrate for these roles.
To gauge this skill during the interview period tech employers will be looking for good written and verbal communication skills since many Tech jobs demand that you methodically discuss how you arrived at conclusions or plan to implement changes. If you see yourself in those soft skills, let's look at three career fields you may want to explore.
Tips for Landing Your First Tech Job
1. Expand Your Realm of Possibilities
Thanks to remote work options, the days of looking for local jobs are over. This is especially true in tech where many of the jobs have full remote options. When you expand your job search beyond the local market, you open yourself to nationwide possibilities. Even if remote work isn't your cup of tea, giving it a try could be a small sacrifice to land a truly great job.
 
2. Upskill Constantly
Perhaps most important when it comes to landing your first tech job is developing your skillset. You can take advantage of free online resources like Codecademy, Code School and Coursera to learn new tech skills. You should also investigate coding bootcamps or other in-person coding programs for hands-on experience. If you have relevant work experience, you might be able to get a job at an entry-level and build your skill set on the job.
3. Stay Creative
It's important to be creative when it comes to how you can market yourself to employers. One way: Network with other people who are looking for similar jobs and make sure you know them through social media channels. Also, don't forget about free events that tech companies hold throughout the year, especially ones that help connect entry-level workers with employers and mentors.
Top 3 Entry-Level Tech Jobs
1) Web Developer
A web developer role can range from all experience levels, and you'll find plenty of entry-level opportunities to succeed in this tech field. According to a July 2022 Salary.com report, average starting salary falls around $76,500 annually. You can choose to specialize in either front-end development roles focusing on front-end web design, back-end roles to improve website structure and functionality. If you want to boost your pay and broaden the scope of jobs you're eligible for, consider full-stack development – developers who can program both front-end and back-end.
2) UX Designer
Have a keen eye for visuals and a strong intuition about optimizing the customer experience? You might find a strong fit in UX designer roles. These professionals collaborate with design teams, developers, and customers to figure out how to optimize user-friendliness in products or services. Much like web developers, beginner UX designers can expect to start in the $70K range but could earn more in higher-cost areas. Not surprisingly, applicants with marketing experience often excel in UX design because both fields consider user intent and experience when creating deliverables.
3) Technical Consultant
Love researching and giving your advice? Technical consultants are the ultimate subject matter experts and thrive on helping others. Candidates hoping to get their start as a technical consultant will be encouraged to know that many companies hiring for those roles offer a two-year rotational training for recent college grades to learn the required skills for the job. Once trained, many technical consultants further their consulting careers or opt for product management and sales roles.
Contact TeamSoft's Tech Recruiting Team for More Entry-Level Tech Jobs!
Did any of these job postings catch your eye? Are you inspired to learn more about the tech world by exploring your options and seeing if this field is right for you? Our experienced tech recruiters can't wait to get started: Contact us to learn more today!